Spending Valentine's Day in Japan? Check Out These 7 Romantic Spots!
Updated: Sep 18, 2020
With Valentine's Day just around the corner, many of you might be wondering what you could do around Tokyo to celebrate. Valentine's Day in Japan is quite a bit different than in America or Europe.
For one, the day is actually centered around giving chocolates to men.
Yes, really.
This is the day for women to show men some love (because we don't enough already lol). There are a few different types of chocolate available, so ladies, be careful which ones you pick out. Some are just for acquaintances (like colleagues), while others are for romantic interests (husband, boyfriend, or someone you're going to ask to be your boyfriend).
Despite this minor *ahem* setback, couples do still spend the day together. Here is a list of some of the most romantic places in and around Tokyo to spend your Valentine's Day.
1) Tokyo Tower
Of course, Tokyo Tower will be lit up with red on Friday and Saturday nights through the month of February (the color of the tower lights actually change every month). During holidays or special events, the lights even reflect associated themes!
Also on Saturdays, Sundays, and holidays, you can climb the 600 stairs to the main viewing deck, basking in the amorous glow. Click here for more info on the lighting times.
On February 11th (close enough to Valentine's Day right?), there is a special event this year called City Light Fantasia. It will be a series of illuminations inside the main deck, that will look like they are part of the view outside. It looks pretty amazing!
Another thing you love birds can do is go up to the top deck at night, where there are mirrors that create a 360 degree view, and a color changing LED light show.
2) Tokyo Disney Sea
This Disney themed park is actually geared just as much toward adults as it is toward children. It is a very popular spot for couples to go on dates!
Go at night to ride Venetian gondolas through beautiful canals and sneak a smooch while you pass through an illuminated Italian city.
If that's not your thing, the park is full of unique rides to get your kicks on!
3) The Tokyo Skytree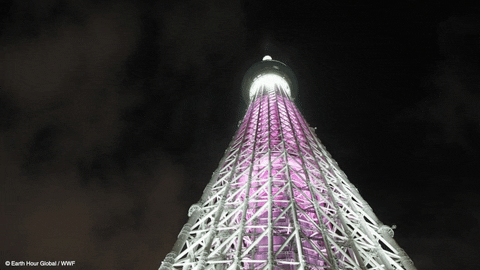 The Tokyo Skytree is a romantic destination any time of year. You can have a really nice dinner with unreal views! But sometimes, on Valentine's Day, they open up a dance floor for some slow jams. During the winter months, there is even a "chocolate theme" at the tower...affecting everything to the colors of the tower lighting to getting free chocolates as a welcome gift! Click here to see ticket prices and hours.
4) Yokohama
You could take a relaxing evening cruise along Yokohama's romantic waterfront. Dinner is included with the cruise, so you can eat while taking in views of the fantastic skyline. Maybe afterward you can ride the iconic Cosmo Clock 21 ferris wheel nearby (located inside Yokohama Cosmoworld).
5) Enoshima Island
This would be my first pick for a romantic day/night out! They just have so much to offer!
Near the entrance to the island, there is a beautiful oceanside spa with onsen. Unfortunately if you have tattoos, you have to pass on this part :-/.
They also have awesome cliffside restaurants and coffee shops with stunning views.
And then there is the LOVE BELL, where couples can make a wish together while ringing it!
Even sweeter, couples write romantic messages on padlocks before clamping them on a fence facing the sea. After putting your lock on the fence, the two of you can walk down to the water and toss the key away.
While you're down there, explore these caves by candlelight! And finally, when you come back out, you can venture down into the rocks by the sea at sunset for a magnificent view of Mount Fuji!
Come on instagram boyfriends, you know she's going to love this! "Sunset Heart Hands!"
6) Yokosuka's Pottery Beach
If you'd rather spend your Valentine's Day somewhere more quiet, Yokosuka has a well-kept secret beach! Cape Tomyozaki Nishiuraga, Yokosuka is home to the Tomyodo lighthouse that was built in 1648!
The beach is pretty secluded, and you can find tons of beautiful pottery shards in the sand. You could relax, listen to the ocean, and pick up pottery shards to commemorate your time there together. You can use the pottery shards to make mosaic tables, jewelry, etc! You're almost guaranteed to find pieces like the ones in the photo below:
7) Hakone
Of course, Hakone usually finds its way onto my lists of recommendations! It is perfect for couples! You can rent private onsen if you don't want to use the public ones, or you can get a room that has a private one included! The healing, soothing waters are the perfect way to relax and spend quality time with a loved one.
While you're already in Hakone, the Little Prince Museum provides a romantic French backdrop for many beautiful photos and would be a great dinner and date spot!
The Takeaway:
All of these locations provide the perfect romantic ambiance for your Valentine's Day in Japan! On the flip side, if you're single, they're great places to go solo or with a friend to prove that you don't need to be in a relationship to be happy :D
Sidenote: If you're about to travel to Japan, be sure to check out my new travel guide for some useful tips!
Subscribe below for new content and exclusive travel deals!